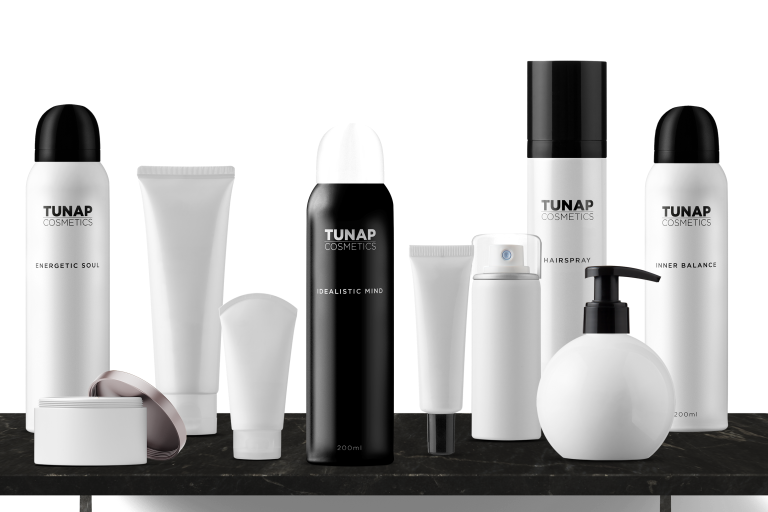 Your Experts for Tailored Care Products for the Hair and Body
TUNAP Cosmetics specialises in developing and manufacturing popular cosmetics. We design and manufacture tailored brand goods for clients in the discount, druggist, LEH and branded maker markets. As innovative full service supplier we're your expert partner where aerosols in the personal care field are concerned.
A Comprehensive Range of Goods and Services
From development of formulae via manufacture, filling, picking and packing and purchasing raw materials to logistics - we cover it all.
We support you in realising new product ideas and develop formulae to your specifications in our R&D lab. Constant monitoring of trends and the latest scientific and engineering developments are the basis of expert implementation of formulae meeting market needs that make you a commercial success. We can of course obtain all the raw and packaging materials required in manufacture and filling. We can negotiate favourable pricing and delivery periods for you thanks to our long experience on the market and large network of suppliers. Cosmetics products are made in TUNAP Cosmetics works in Kematen and TUNAP works in Oberlichtenau. Our works in Kematen also undertake manufacture as contractor. Our reliable forwarding agents can of course render the logistical goods and services required for raw materials and finished goods from Goods Inward to delivery.
Our Range of Hair Care Products
Our Range of Body Care Products
Our Range of Skin Care Products
News from the world of TUNAP